Catching up posting more of my Exalted art from our
Sorrow Resplendent campaign
here!  This is an image from 2016 created in Photoshop.
Introducing Night Locust, chosen by the Unconquered Sun to be a Night Caste.  Sold into slavery at a young age, he was groomed to be an assassin in Nexus under a hard, unforgiving master.  Nobody would suspect the child assassin in their midst, which made him the perfect tool.  However, Night Locust could never shake his attachment to a younger pupil, Arc of Silence.  When the day came that he and Arc failed a mission to assassinate a Dragonblooded Fire Aspect, Night was ordered to kill Arc to prove his loyalty.
He refused and in his passionate defense of his friend against their master, he Exalted as a Night Caste and won their freedom in bloodshed.  He and Arc traveled together and eventually stumbled upon 
Kalara Vadras
, my Eclipse and a Nexus fugitive traveling in disguise atthe time as a runaway slave rebel leader.  The two would become part of the burgeoning Circle of Solars who have chosen the fugitive slave city of Dinas Rhydd as their home.  
At age 19 when he Exalted, he was the youngest member to join the Circle.  He currently works as Kalara's bodyguard and the head of her spy network referred to in the hushed whispers of their enemies as the Devil's Tongues.
Night wields an artifact grimscythe crafted by Voice of the Orichalcum Forge, a Twilight Caste companion, and a set of acupuncture needles claimed from the manse of his previous Solar shard's owner, as well as short daiklaves.  He is one of the few in the Circle who can destroy spirits with his Ghost Eating Technique, which he has previously used to utterly destroy the Deathlord, Walker in Darkness, a fact which has made him a name to be feared in the halls of Yu Shan.
Despite all of this dramatic history, he's actually the prankster of the Circle and usually does his best not to kill their enemies, after his increasing knowledge of the occult led him to be able to see immaterial spirits.  Having this intimate knowledge of the consequences of death at his hands has made him more merciful in his post-assassin days, earning him the moniker 'the Kindly Reaper'.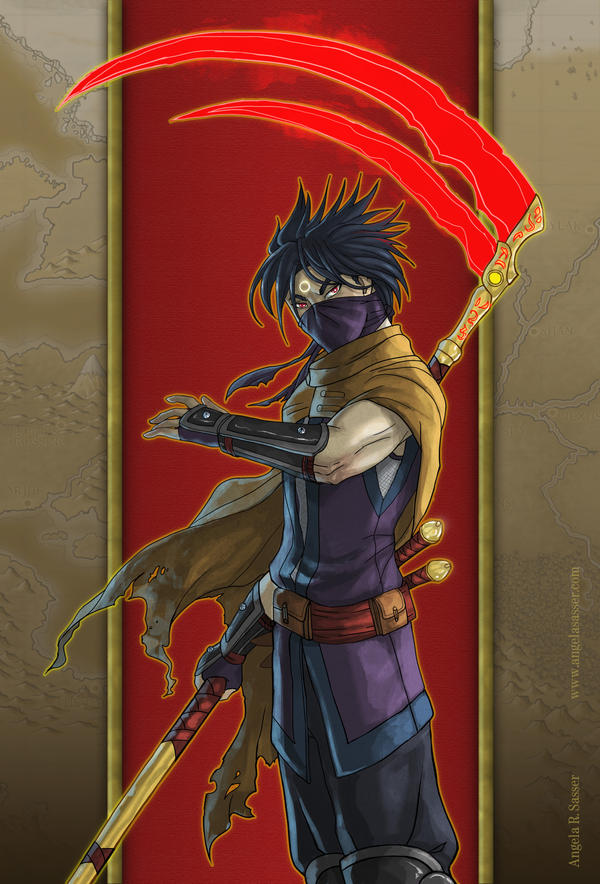 Line work so you guys can appreciate Night's unmasked face.